Civic Learning Awards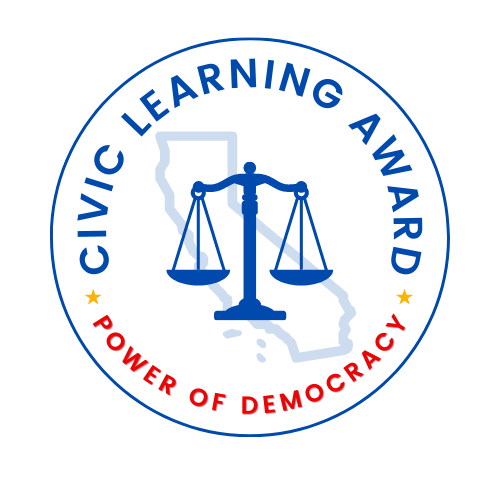 The awards recognize and celebrate public schools K-12 who demonstrate a commitment to providing rich civic learning opportunities for students. 
The awards are part of a statewide collaborative effort aimed at revitalizing civic education for all California students. The program is coordinated by the Power of Democracy Civic Learning Initiative, a body of state and federal jurists, members of the State Bar, educators, and students appointed by the Chief Justice.
The Civic Learning Awards were first presented in 2012 and have recognized more than 400 public schools of all grade levels across California.
About the Awards
The Chief Justice of California and State Superintendent of Public Instruction co-sponsor the Civic Learning Awards for California public schools. The award identifies replicable high-quality models and practices, and recognizes schools' civic learning efforts. To apply, schools describe how they incorporate the six research-based proven practices in civic learning, as outlined in the Guardians of Democracy Report. Emphasis is placed on the depth and breadth of their efforts, and most award-winning schools require their entire student body receive at least one high-quality civic education experience during the school year.
| | | | |
| --- | --- | --- | --- |
|   | Elementary School | Middle School | High School |
| Excellence | Maple Creek Elementary School | Fresno, CA | Dale Junior High School | Anaheim, CA | Gilbert High School | Anaheim, CA |
| Distinction | Palm Elementary School | Hacienda Heights, CA | Maywood Center for Enriched Studies | Maywood, CA | Innovations Academy | Rancho Cordova, CA |
| Merit  | Dry Creek Elementary School; Garfield Elementary School;  Los Robles Academy;  Nelson Elementary School | Natomas Pacific Pathways Middle School;  Orange Grove Middle School;  Sierra Vista Middle School;  South Junior High School | Anaheim High School;  Natomas Pacific Pathways (NP3);  Norte Vista High School;  Vista Del Lago High School |
Honorable Mentions
Red Bank Elementary School, Kings River High School, Golden Charter Academy, Del Valle Elementary, Workman Elementary School, Pantera Elementary School, Sparks Middle School, La Puente High School, Centralia Elementary School, Sycamore Junior High School, Ball Junior High School, Katella High School, Cordova High School, Folsom High School, Kairos Public Schools, Royal High School
See the full News Release | Announcement Video
---
Important Dates:
April 3, 2023: Applications due by 10 p.m.
May 1, 2023: Announcement of Awards at 12 p.m. 
May-June: Visits to Merit and Distinction Awardees (with option to host presentation during Constitution Month in September)
September (Constitution Month) Award of Excellence visits by Chief Justice