California Courts Need More Interpreters
Find out how the judicial branch is recruiting bilingual professionals at schools, cultural festivals, and interpreting events in other industries.
Sep 4, 2018
The California court system has 1,883 certified and registered court interpreters on its master list—by far the largest court interpreter workforce in the nation. But it's not enough.
A recent study conducted by the council reported that 37 of the state's 58 trial courts said they need more court interpreters to meet demand. The Judicial Council's Court Interpreters Program estimates that statewide the courts need on average at least 50% more interpreters in most languages.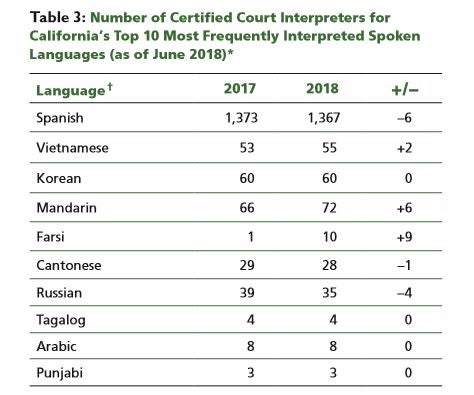 Finding the Next Generation of Court Interpreters
Career fairs are one tool for recruiting more court interpreters. Court representatives attend local colleges and chamber of commerce events that attract people searching for opportunities.
"I hear over and over how they didn't know there was such a profession," said Sat Franco, interpreting manager for the Superior Court of Fresno County.
Courts even talk to kids in elementary school. In the Los Angeles area, students speak more than one language in 90% of inner-city elementary schools.
"Some kids say they're embarrassed they speak multiple languages because they want to fit in with the rest of the students," said Aliyah Hassan, operations manager for the Los Angeles court's Language Access Services office. "But we tell them their second language is something to be proud of and a skill that could lead them into a lucrative career."
Many Visitors to Cultural Festivals and Religious Institutions Are Bilingual
Staff from the courts and the Judicial Council also meet attendees at cultural events and festivals to increase awareness about the interpreting profession. In May, representatives from the Superior Court of Los Angeles County participated in an Armenian festival that drew 1,000 attendees in Montebello.
"It was an opportunity to educate the community about the benefits of learning and maintaining both languages for a potential career in interpreting," added Hassan. "Many people didn't know there was demand for interpreters. Hopefully the news will spread by word of mouth."
The Fresno court has been talking to religious congregations about court interpreting. Religious services often have time at the end of prayers for community announcements.
"I had 20-40 interested people at each location, depending on the size of the congregation," added Franco. "I'm always on the lookout for opportunities to recruit interpreters at religious events, doctors' offices, shopping malls, restaurants, or other places where people gather. Wherever I am, if I hear a foreign language, I'll try to start a conversation about where they're from and what language they're speaking."
Conferences and Trainings Help Judicial Branch Connect to Potential Court Interpreters
Judicial Council staff sponsor and support training events as a way to help maintain court interpreters' skills and to reach out to interpreter candidates in other fields.
Earlier this year, more than 200 bilingual people attended three workshops in Los Angeles to become more familiar with careers in court interpreting. The council also partnered with a community services organization in San Diego on mock trial trainings for nearly 100 intrerpreters, and participated in an American Sign Language regional conference in Vancouver, Washington. Other events council staff attended this year included the California Healthcare Interpreters Association Conference in Irvine and the National Association of Judicial Interpreters and Translators Conference in San Francisco.
Looking to Medical Profession for Interpreters
Like criminal defendants in court proceedings, medical patients are entitled to an interpreter to ensure they understand a doctor's diagnosis and medical instructions. The judicial branch often recruits those interpreters already working in the medical industry who may want additional work.
"It's easier and faster to cross-train someone from another industry with interpreting skills than to train a bilingual person how to interpret in real-time," said Anne Marx, a senior analyst and recruiter in the Judicial Council's Court Interpreters Program. "Interpreting is much more than just knowing a second language."
This summer, the council for the first time conducted a crossover training for 40 medical interpreters to learn about the legal field. In addition to trainings, the legal and medical professions have teamed up on many other crossover events and recruiting efforts to help identify qualified interpreters that could serve both industries. (Who said doctors and lawyers can't get along?)
More Ways to Get the Word Out
The judicial branch has invested in other promotion tools to reach potential interpreters, such as online information, Youtube videos, and ads for print, television, radio, and the Web.
But even if the branch creates interest in becoming a court interpreter, there aren't enough education programs to prepare hopefuls for the exams and their career, particularly in languages other than Spanish. They are often limited to self-study. This presents a major challenge when recruiting.
"With the exception of American Sign Language, only a few colleges have courses or degrees in interpreting," added Marx. "The council is trying to offer more training and partner with other organizations on conferences and educational events. We're also collaborating with the National Center for State Courts to produce more online training."
For more information or to find out how to become a court interpreter, visit the California Courts website.