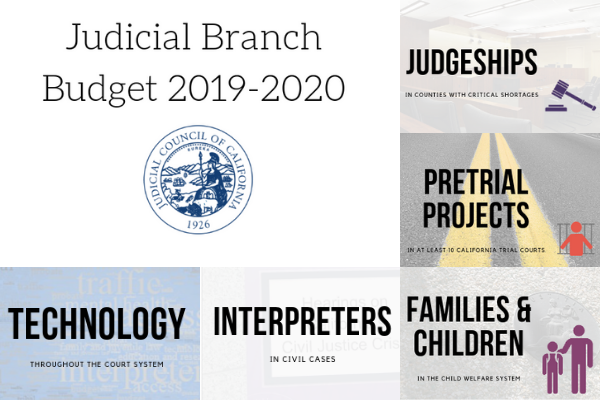 5 Things to Know about the Judicial Branch Budget
Governor Gavin Newsom signed his first state budget on Thursday, which includes nearly $470 million in new judicial branch funding to continue the courts' steady recovery after years of deep cuts.
Jun 28, 2019
Governor Gavin Newsom signed his first state budget on Thursday, which includes nearly $470 million in new judicial branch funding to continue the courts' steady recovery after years of deep cuts.
Among the highlights: The budget funds 25 trial court judges in the areas of the state with the most need; backs new technologies including holding court proceedings by video in non-criminal cases; and finances pilot projects that aim to improve how California decides whether to hold someone in jail pending trial.
"This year's budget is good news for residents who rely on California's judicial system," Chief Justice Tani G. Cantil-Sakauye said. "Both Governor Newsom's initial budget proposal in January and the Legislature's follow through in its budget process demonstrate a joint commitment to providing equal access to justice. This budget reflects years of advocacy for more trial court judges in the fastest growing parts of our state and will help courts continue initiatives that help break down barriers for all Californians seeking justice."
Here are five of the most significant changes to look for in 2019-20:
1. Funding New Judges
After years of advocacy on the issue, the budget funds 25 new trial court judges in counties where there are critical shortages. Among those are some of the fastest growing but under resourced parts of the state, including San Bernardino and Riverside counties in the Inland Empire and the Central Valley's Kern and Fresno counties.
During the press conference to announce his May budget proposal, Governor Newsom praised the Chief Justice for her leadership in "demanding that these dollars are there on behalf of the courts." Forty-eight judgeships were authorized in 2007 but went unfunded until this year. In July, the Judicial Council will finalize a report ranking courts with the highest need, based on factors like the number and complexity of cases being filed in each county.
In appointing new judges, Newsom said he will continue the push to diversify California's bench. His predecessor Gov. Jerry Brown made 200 appointments in his last year in office—more than half were women and 41 percent identified as non-white.
Last year, Justice Halim Dhanidina (left) became California's first Muslim appellate justice and Dorothy Kim became the state's first Korean-American appellate justice (Credit: Emilio Aldea).
2. Focus on pretrial detention
The budget includes $75 million over two years to fund pilot projects related to pretrial decision-making in at least 10 California trial courts.
In January, the Chief Justice launched a workgroup of trial court judges, appellate justices and court executive officers to review progress on pretrial reforms and identify next steps. The workgroup will recommend how to allocate the $75 million and evaluate risk assessment tools that help decide which arrestees should be held in custody pending trial.
A previous workgroup established by the Chief Justice in 2017 released a slate of recommendations for pretrial reform. Those recommendations included replacing money bail with a risk-based assessment and supervision program that bases decisions on whether to jail arrestees before trial based on their threat to public safety and their likelihood of making a court appearance.
3. Expanding language access
California courts continue to improve how they serve an increasingly diverse population: 7 million people have limited English skills, and more than 200 languages are spoken in the state.
Since 2015, many courts have expanded their interpreter services from criminal cases to include many civil proceedings, and three courts recently completed a pilot project that used remote video to broaden access to interpreters. This year's budget supports these efforts by providing nearly $10 million to help fund interpreters in civil cases.
4. Investing in tech
About $44 million will go toward advancing several new technology initiatives. They include:
Proposals by the Chief Justice's Futures Commission to expand access to justice through: remote appearances for most non-criminal court proceedings; voice-to-text language interpretation services at clerk counters; and intelligent chat technology.
Shifting 10 courts to state-of-the-art case management systems that integrate with programs used in other counties.
Digitizing paper and film case files in six trial courts, developing best practices that will be used to expand electronic filing statewide.

5. Funding lawyers for California's most vulnerable
Advocates cheered $20 million included in the budget to help fund legal representation for children and families in California's child welfare system. Coupled with $34 million in federal money, the funds are expected to have a dramatic impact.
Thanks to the new funding, average caseloads should drop from a staggering 214 clients per attorney, to 153 clients per attorney.
"We are thrilled that he [Governor Newsom] called out the importance of dependency counsel today and acknowledged the deficit over the years, and his commitment to remedying that is fantastic," said Leslie Heimov, ED of the Children's Law Center (CLC). https://t.co/cxXAKUeO42

— CLC California (@clccal) May 11, 2019