Search results
News Release - February 3, 2021
Draft opinion provides guidance to judges on advising family members on matters that implicate legal issues. Deadline to comment is March 22.
Image
News Release - February 9, 2021
A state Supreme Court committee issued expedited advice regarding whether an appellate court justice may accept the services of an attorney, who is an employee and incoming associate of a law firm, to temporarily work in the justice's chambers. 
Image

News Release - February 17, 2021
A state Supreme Court committee issued an expedited opinion providing guidance for judges who wish to exchange gifts with staff to celebrate holidays, birthdays, or other occasions.
News Release - February 23, 2021
A state Supreme Court committee issued an advisory opinion explaining when a judge may accept campaign contributions from a political action committee when the contribution includes funds from another political action committee organized and funded by court employees.
Image
News Release - March 3, 2021
Supreme Court committee issues expedited guidance about a judge serving as a member of a governmental task force with a broad agenda.
Image
News Release - March 5, 2021
Will receive reports on addressing defendants with mental health issues, how state youth facility closures will affect local courts
Related:
Image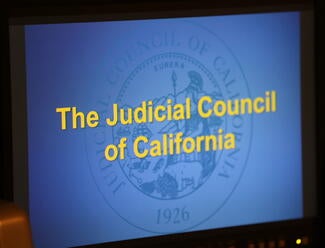 Court self-help centers aim to help Californians without legal representation navigate the court system.
Image

News Release - November 12, 2020
The California Supreme Court Committee on Judicial Ethics Opinions issued a formal ethics opinion about the duties of a presiding judge or other judge with supervisory duties when investigating a complaint filed against a trial judge.
Image
Since the COVID-19 state of emergency issued in mid-March, courts around the state have been holding more court hearings remotely. Now courts are looking for ways to expand remote technology to support community engagement. 
Image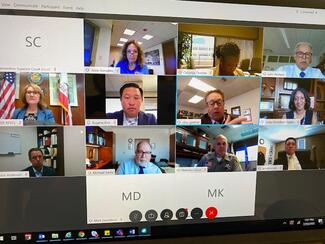 Languages and dialects spoken in California—more than 200 Percentage of Californians that speak a non-English language at home: 44% Percentage of Californians with English-language limitations: approximately 19% (more than 7 million) Languages certified for court interpreters: American Sign Language and 15 spoken languages—Arabic, Eastern Armenian, Western Armenian, Cantonese, Farsi, Japanese, Khmer, Korean, Mandarin, Portuguese, Punjabi, Russian, Spanish, Tagalog, and Vietnamese Spanish remains the most interpreted language in courtro
Can a presiding judge disqualify an entire bench? The answer is a decisive "no", according to the Supreme Court Committee on Judicial Ethics Opinions, the ethical rule is that no judge may decide if another judge is disqualified. But they also gave...
Related:
News Release - July 22, 2020
A California Supreme Court committee today published guidance for judges who want to attend public demonstrations and rallies, citing a slate of ethical issues for judges to consider before participating.
Image