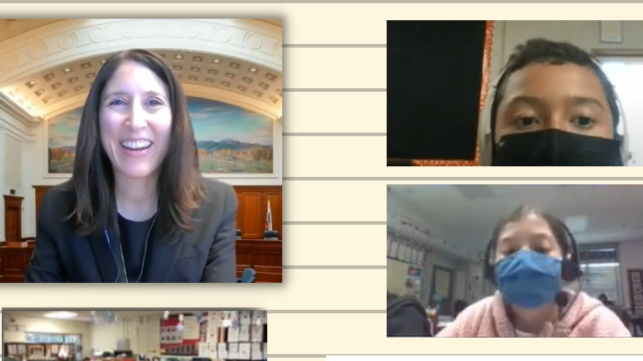 Elementary Schoolers Interview California Supreme Court Justice
Students learn about Justice Patricia Guerrero's path to the bench and her role as a member of the state's high court
Sep 13, 2022
Update Jan 2023: Chief Justice Patricia Guerrero, California's 29th chief justice, was sworn into office January 2, 2023.
---
In spring of this year, Governor Gavin Newsom administered the oath of office to Justice Patricia Guerrero, the first Latina justice to sit on the California Supreme Court.
Besides hearing oral argument the very next week, one of the first things Guerrero did as the newest Supreme Court justice was volunteer for an interview with members of PressFriends, an all-volunteer nonprofit that works with elementary school students in high-need areas to improve their writing and communication skills.

Students of Color See a Familiar Face on the Court
The students from each of the Los Angeles-area schools—Foshay Learning Center, John W. Mack Elementary, and Parmelee Avenue Elementary—were students of color, predominantly of Hispanic/Latino decent.
Prior to the interview, the students researched the justice's path to the bench and watched her recent confirmation hearing, learning all they could as good reporters. Justice Guerrero spent half an hour via Zoom with a total of 50 students, answering questions about her background and how she became a judge, including:
What challenges did you have growing up as the daughter of an immigrant and what did it teach you?


 

How did you learn about college and prepare for going to college?


 

Did you know you wanted to be a Supreme Court justice?
"You may not know what you want to do (in your career), but you're not expected to right now. But I would encourage you to follow your dreams because you can do whatever it is you end up wanting to do." - Justice Patricia Guerrero, California Supreme Court
Note: A few months after the PressFriends interview, Governor Newsom nominated Justice Guerrero to become Chief Justice of California.
Students' Stories about Justice Guerrero Run in School Newspapers
After the Zoom interview, students reviewed their notes and drafted stories about Justice Guerrero for their school newspapers:
Mack Squad News                Foshay Flash                       Lions' Tales
Judges in the Classroom Program Coordinates Visits with Schools
Part of the California Chief Justice's Civic Learning Initiative, the statewide Judges in the Classroom program connects judges with public school teachers grades 3-12 to teach students about the judicial branch of government. During the 2021-22 school year, 200 California bench officers—including Justice Patricia Guerrero—signed up to volunteer for the program, connecting with 239 (both in-person and virtual) classrooms in 18 counties.
Teachers can request a visit from a judge on the Judges in the Classroom webpage.