Search results
The deadline is 10 P.M. on March 31, 2023. The applications in the past were due in February. Scoring relies on data supporting the impact and scope of current school efforts. The March 31 deadline gives schools more time to mature their programs and collect information on their student civic learning and community action projects.
News Release - November 28, 2022
Council will also hear recommendations to increase diversity of California's judiciary
Related:
Image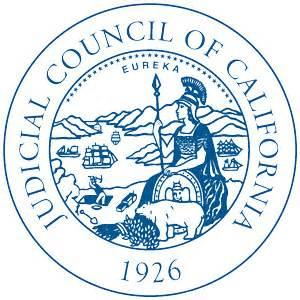 Feature - November 22, 2022
Chief Justice-Elect, other jurists meet students and Champion of Civics at the Summit held in Sacramento on Nov. 15, 2023.
Image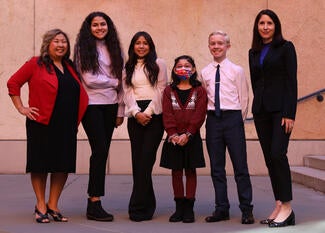 Frequently Asked Question
Who scores the awards?
Each year, the applications are scored by a panel of approximately 12 judicial officers, educators, and civic learning experts. Most panelists are members of the Power of Democracy Steering Committee.
Every application is read and scored by no fewer than three judges, with an average score calculated and assigned. Applications scoring the highest are then reviewed by the entire panel. In cases where there is a tie, weight is applied to those schools who best demonstrate how they:
overcome obstacles (campaign for policy change at the district level, i.e. lobbying for changes to the LCAP)
involve students in campus leadership and decision-making that impacts campus life
engage students in their community
promote democracy and the three branches of government
take advantage of programs like Judges in the Classroom to promote an understanding of the Judicial Branch; and or
develop tracks for students to work towards the State Seal of Civic Engagement.
Also remember, if your school is tied with another, an easy way to make sure you pull ahead is by inviting a judge to your classroom today! http://www.judgesintheclassroom.org  See Extra Credit
Frequently Asked Question
I want to share an idea for expanding civics in California. Who should I talk to?
The Power of Democracy Civic Learning Initiative is always looking for new, innovative ideas to implement, promote, expand, and celebrate effective civics programming!
We believe the best ideas come from the classroom. So if you have an idea, POD wants to hear from you. If your class has an idea, tell us about it using the space below. If recording a message to describe your idea is easier, contact judicialoutreach@jud.ca.gov  All ideas big and small are invited! 
Frequently Asked Question
How do we get extra credit?
The Civic Learning Awards are competitive. Often, just a point or two seperates the levels at which schools are honored. There are measures schools can do or advocate for to demonstrate their commitment to civics. The following represents ways in which schools can pull out ahead of other applicants:
If your school district LCAP includes the word "civic," "civics," or "State Seal of Civic Engagement" an additional 2 points will be added to your school total once reviewed by the panel. 
Your school can earn extra points by inviting a judge to visit a class through the Judges in the Classroom program. Judges are available for in person and remote visits. There is little reason why any school committed to civics shouldn't be accessing this resource!
Frequently Asked Question
Do award-receiving schools get a visit from the Chief Justice?
The Chief Justice visits schools of Excellence. Schools of Distinction and Merit receive visits from judges in their community.
In 2021 and 2022, visits to campus events were canceled due to the uncertainty and unpredictable nature of public health directives. 
This year, the Award of Excellence will be presented in September by Chief Justice-Elect Patricia Guerrero. This will give schools time to organize celebrations during Constitution Month, and around Constitution Day (September 17).
Schools awarded at the levels of Distinction and Merit may choose when the visit is made. Award program staff will help awarded schools connect with local judicial officers.
Frequently Asked Question
Where can I find a list of past recipients?
Frequently Asked Question
What happened to the Champion of Civics Award?
During the pandemic, the awards were almost suspended due to the fact many schools were facing unprecendented challenges to keep students learning remotely. Instead of pausing the program, the Power of Democracy Steering Committee adapted the program to honor individual programs, clases and clubs, and individuals. This was the model for 2021 and 2022.
With schools open and students once again thriving in their on campus or in person activities, the 2023 program returns to its pre-pandemic purpose--honoring schools with an all-encompassing commitment to civics. 
The Champion of Civics Award will go on a hiatus. It will be presented in the future at the descretion of POD or the Chief Justice. 
Applications are now available for the 2023 Civic Learning Awards. The awards recognize and celebrate public schools K-12 who demonstrate a commitment to providing rich civic learning opportunities for students. 
News Release - November 16, 2022
Final opinion follows public comment and provides guidance for judges when consulting with other judges
Image