Search results
News Release - December 5, 2022
The Commission on Judicial Appointments will hold a public hearing on Jan. 13 starting at 11 a.m. to consider the appointment of Daniel Bromberg to the Sixth District Court of Appeal in San Jose.
Image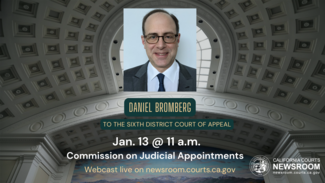 News Release - December 2, 2022
Feedback collected for a companion report on the use of remote technology in trial court civil actions was overwhelmingly positive
Related:
Image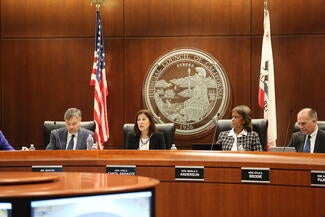 News Release - November 30, 2022
Chief Justice Tani G. Cantil-Sakauye, chair of the Commission on Judicial Appointments, announced that the commission today confirmed three appointments to the California Courts of Appeal in San Francisco and Los Angeles.
Image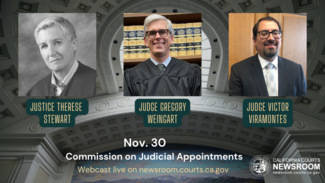 News Release - November 29, 2022
The Court of Appeal, Fourth Appellate District, Division One (San Diego) has announced its intention to destroy some of its criminal, juvenile, and civil records.
During the pandemic, the Civic Learning Award program took pause to honor individual programs, classes and clubs, and individual Champions of Civics. This was the model for 2021 and 2022 during a time when schools were remote learning, supporting hybrid classrooms, and getting back to campus life full-time. This year, the program returns to its pre-pandemic purpose--honoring schools with an all-encompassing commitment to civics.  The Champion of Civics Award will be presented in the future at the discretion of Power of Democracy Steering Committee or the Chief Justice. 
News Release - November 29, 2022
Hoshino will retire on Dec. 31 after eight years leading the council's staff organization.
Image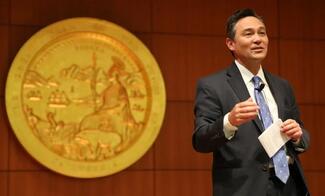 The Power of Democracy Civic Learning Initiative is always looking for new, innovative ideas to implement, promote, expand, and celebrate effective civics programming! So we ask you: Teachers and students, if you were in a position to really change how civics reaches students in public school, where would you begin? 
The Chief Justice visits schools of Excellence. Schools of Distinction and Merit receive visits from judges in their community. In 2021 and 2022, visits to campus events were canceled due to the uncertainty and unpredictable nature of public health directives.  This year, the Award of Excellence will be presented in September by Chief Justice-Elect Patricia Guerrero. This will give schools time to organize celebrations during Constitution Month, and around Constitution Day (September 17).
Each year, the applications are scored by a panel of approximately 12 judicial officers, educators, and civic learning experts. Most panelists are members of the Power of Democracy Steering Committee. Every application is read and scored by no fewer than three judges, with an average score calculated and assigned. Applications scoring the highest are then reviewed by the entire panel. In cases where there is a tie, weight is applied to those schools who best demonstrate how they:
The deadline is 10 P.M. on March 31, 2023. In the past, applications were due in February. Scoring relies on data supporting the impact and scope of current school efforts. The March 31 deadline gives schools more time to mature their programs and collect information on their student civic learning and community action projects.
News Release - November 28, 2022
Chief Justice Tani G. Cantil-Sakauye hosts her last meeting as chair of the Judicial Council.
Related:
Image