Search results
event - September 9, 2021
News Release - November 10, 2020
Link to Commission materials here. 
SAN FRANCISCO—The Commission on Judicial Appointments will hold a hearing today starting at 1 p.m. to consider the appointment of Justice Martin J. Jenkins (Ret.) to the Supreme Court of California.
Image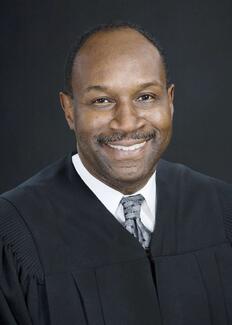 News Release - November 10, 2020
Praised for his "brilliant intellect, first-class temperament, and boundless humanity," Justice Jenkins makes history as the first openly gay California Supreme Court justice and only the third African American man to serve on the state's highest court.
Image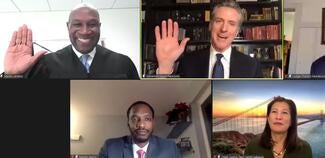 Youth court leaders, judges, youth court staff, volunteers, education and youth-focused organizations, and community service leaders will gather in Santa Cruz this June to exchange information on best practices for youth courts. 
Image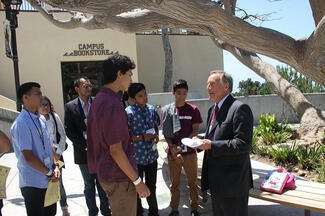 News Release - July 22, 2020
A California Supreme Court committee today published guidance for judges who want to attend public demonstrations and rallies, citing a slate of ethical issues for judges to consider before participating.
Image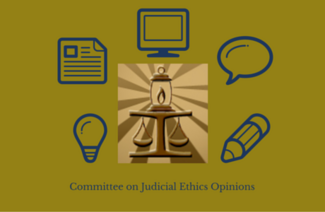 News Release - July 16, 2020
The California Supreme Court on Thursday announced it will permanently lower the passing score for the California Bar Exam and released plans for an October test administered online.
Image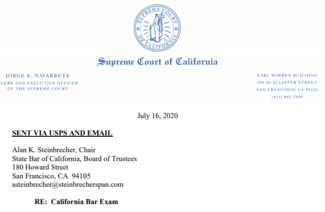 News Release - July 6, 2020
The Supreme Court of California on Monday named members to its Jury Selection Work Group to study changes or new measures to guard against impermissible discrimination in jury selection.
News Release - June 15, 2020
The Supreme Court of California adopted a slate of changes to the California Code of Judicial Ethics, which include allowing judges to speak publicly about a pending case if they are criticized for a ruling during an election or recall campaign.
News Release - April 27, 2020
The California Supreme Court ordered the July California Bar Exam be postponed to Sept. 9-10, and directed the State Bar to make every effort to administer the test online with remote or electronic proctoring.