Search results
Feature - August 28, 2017
Did you know that Spanish is the most requested language by limited-English-proficiency court users?
Image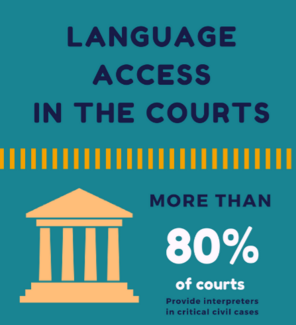 Court interpreters from around the world convened at the Judicial Council June 5 for the start of a four-day conference on the challenges and solutions in legal interpreting in the U.S. and Europe.
News Release - August 3, 2018
Recent report details the increased access to interpreters in civil cases and the additional language services provided for court users inside and outside of the courtroom.
Image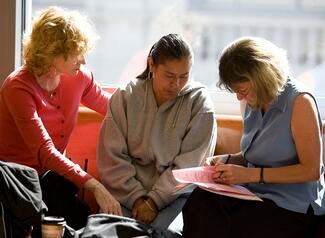 Feature - September 4, 2018
Find out how the judicial branch is recruiting bilingual professionals at schools, cultural festivals, and interpreting events in other industries.
News Release - March 15, 2019
At its March 15 business meeting, the Judicial Council approved recommendations for updating guidelines for video remote interpreting (VRI) and voted to have its staff coordinate a new VRI program for the judicial branch.
News Release - September 24, 2019
The formula forms the basis of the Judicial Needs Assessment, which estimates California needs an additional 173 judges.
Related:
Languages and dialects spoken in California—more than 200 Percentage of Californians that speak a non-English language at home: 44% Percentage of Californians with English-language limitations: approximately 19% (more than 7 million) Languages certified for court interpreters: American Sign Language and 15 spoken languages—Arabic, Eastern Armenian, Western Armenian, Cantonese, Farsi, Japanese, Khmer, Korean, Mandarin, Portuguese, Punjabi, Russian, Spanish, Tagalog, and Vietnamese Spanish remains the most interpreted language in courtroom
News Release - March 5, 2021
Will receive reports on addressing defendants with mental health issues, how state youth facility closures will affect local courts
Related:
Image