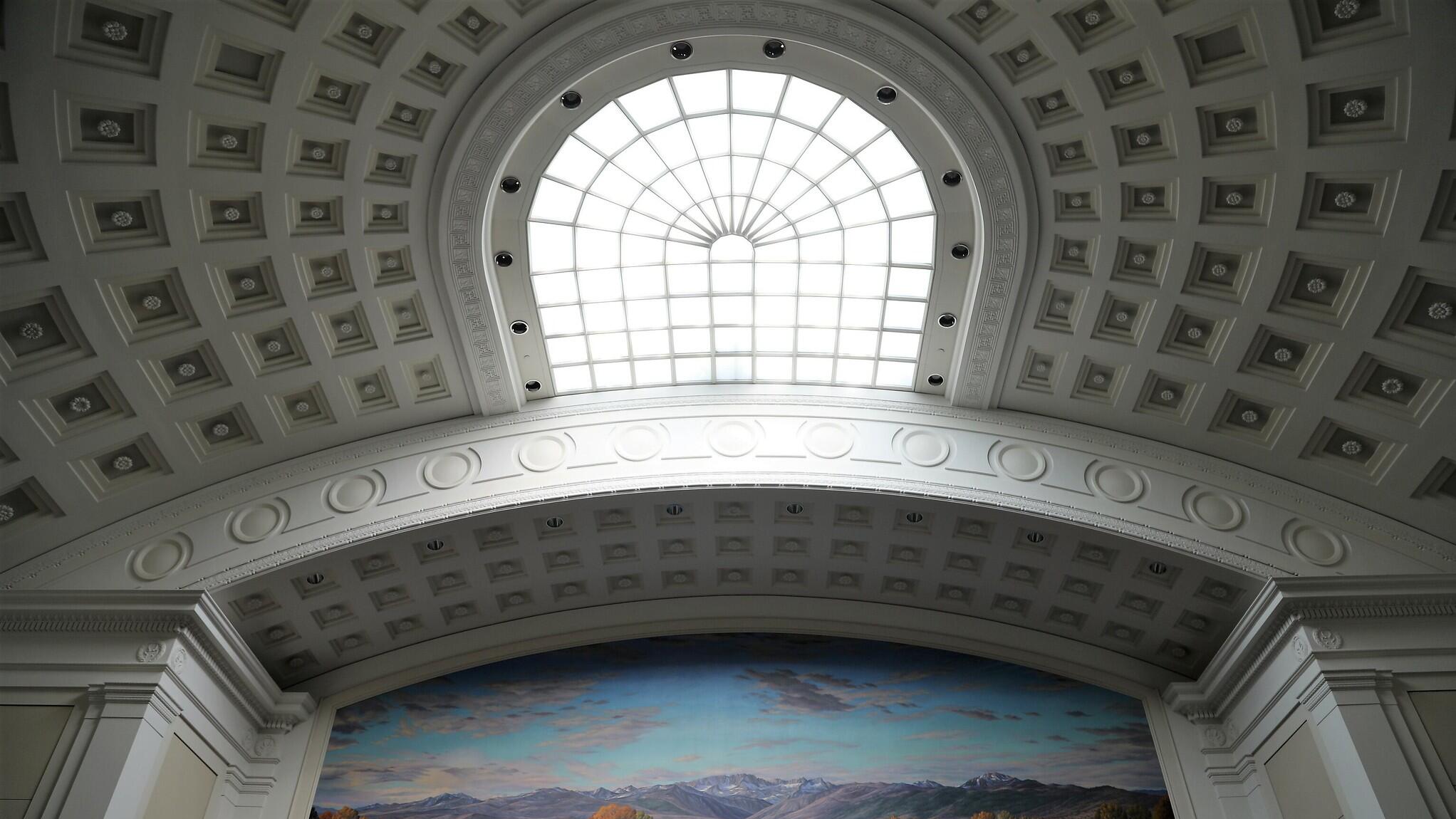 Year in Review: California Supreme Court
Highlights and key statistics from the 2021–2022 court year.
Sep 22, 2022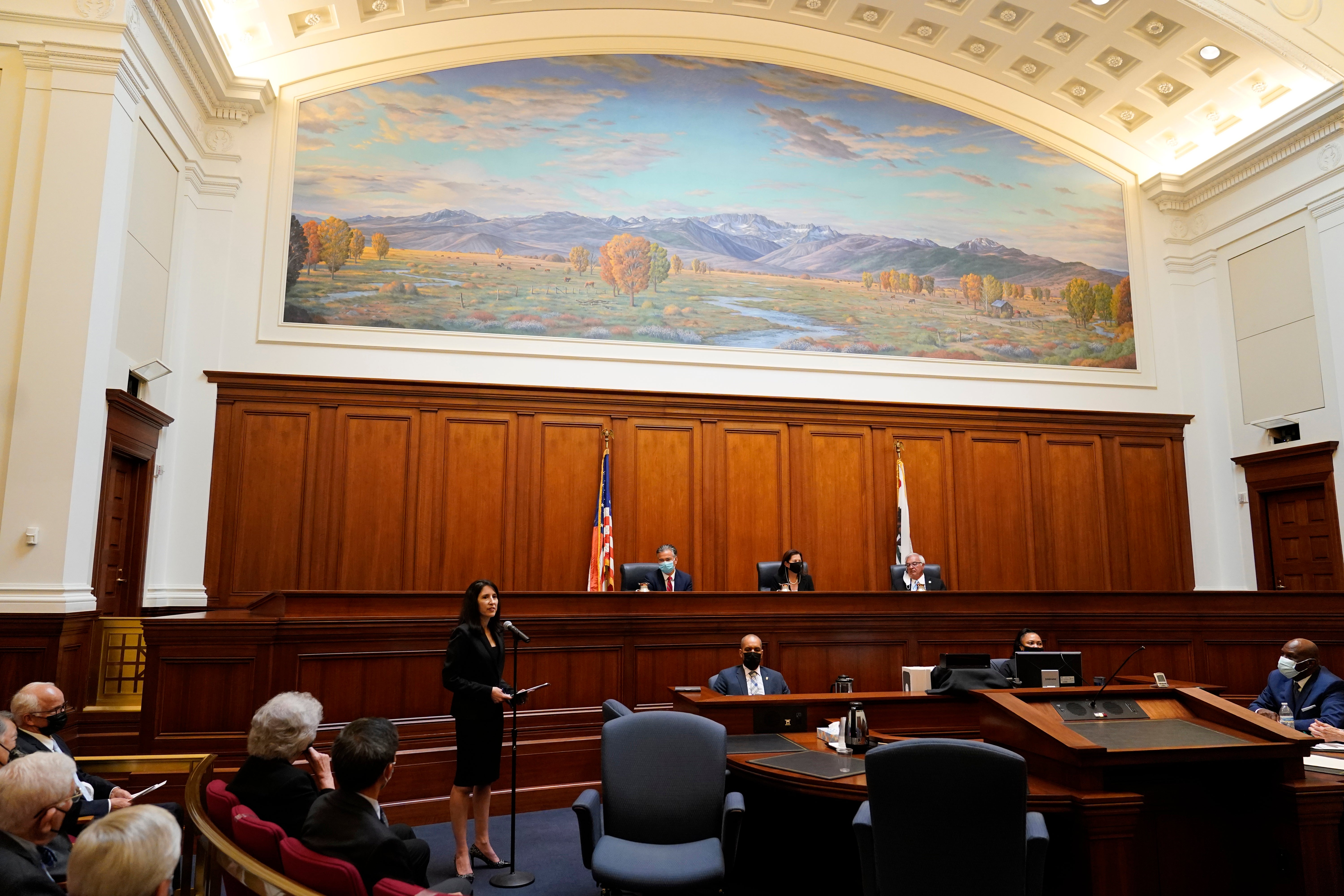 Historic Nominations Remake the Court

History was made in 2022 with Governor Gavin Newsom's appointment of Court of Appeal Justice Patricia Guerrero as an associate justice of the California Supreme Court — making her the first Latina to sit on the state's high court.
That nomination took on even greater significance after the announcement by Chief Justice Tani G. Cantil-Sakauye that she would not seek re-election at the end of her 12-year term, capping a 32-year career in public service that touched every level of the California court system.   
Newsom praised Cantil-Sakauye for steering the courts "through times of great challenge and opportunity, championing important reforms to make our justice system fairer and more transparent, and expanding equal access to justice for all Californians."
In August, Newsom nominated Associate Justice Guerrero as the next Chief Justice of California. If she is approved by voters at the November 8 election, she will begin her term on January 2, 2022.
"Justice Guerrero has established herself as a widely respected jurist with a formidable intellect and command of the law and deep commitment to equal justice and public service," said Governor Newsom. "A first-generation Californian from the Imperial Valley, Justice Guerrero broke barriers as California's first Latina Supreme Court Justice, enriching our state's highest court with her insights and deep understanding of the real-world impacts of the Court's decisions in the lives of everyday Californians. I thank Justice Guerrero for her willingness to step into this role and am confident that the people of California will continue to be well served by her leadership for years to come."
Governor Newsom also announced his intention to nominate Alameda County Superior Court Judge Kelli Evans to fill Guerrero's associate justice position.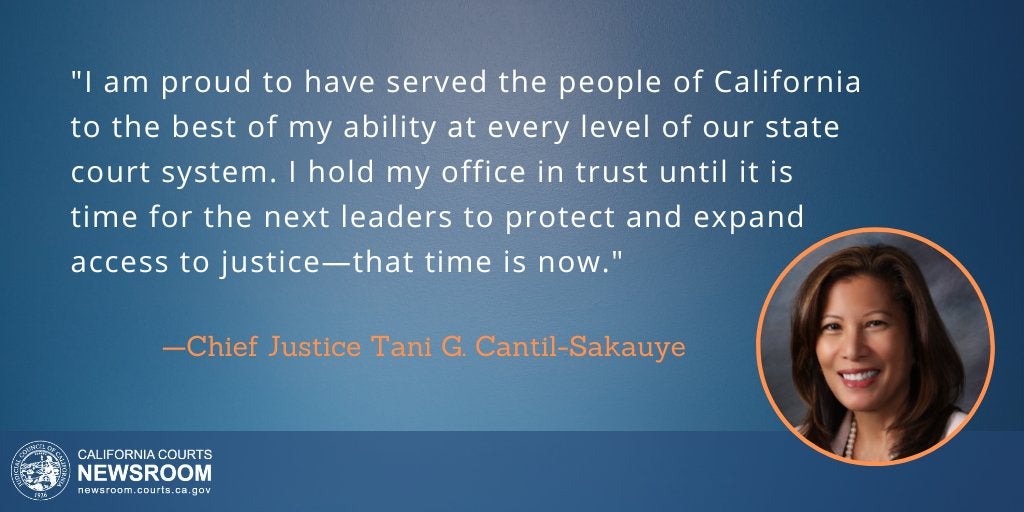 #CAChiefJustice announces she will not seek re-election after 12 years as chief justice and 38 years of public service: https://t.co/oZocqJl8Wi pic.twitter.com/RHBBP33AlY

— California Courts (@CalCourts) July 27, 2022
---



The Work of the Court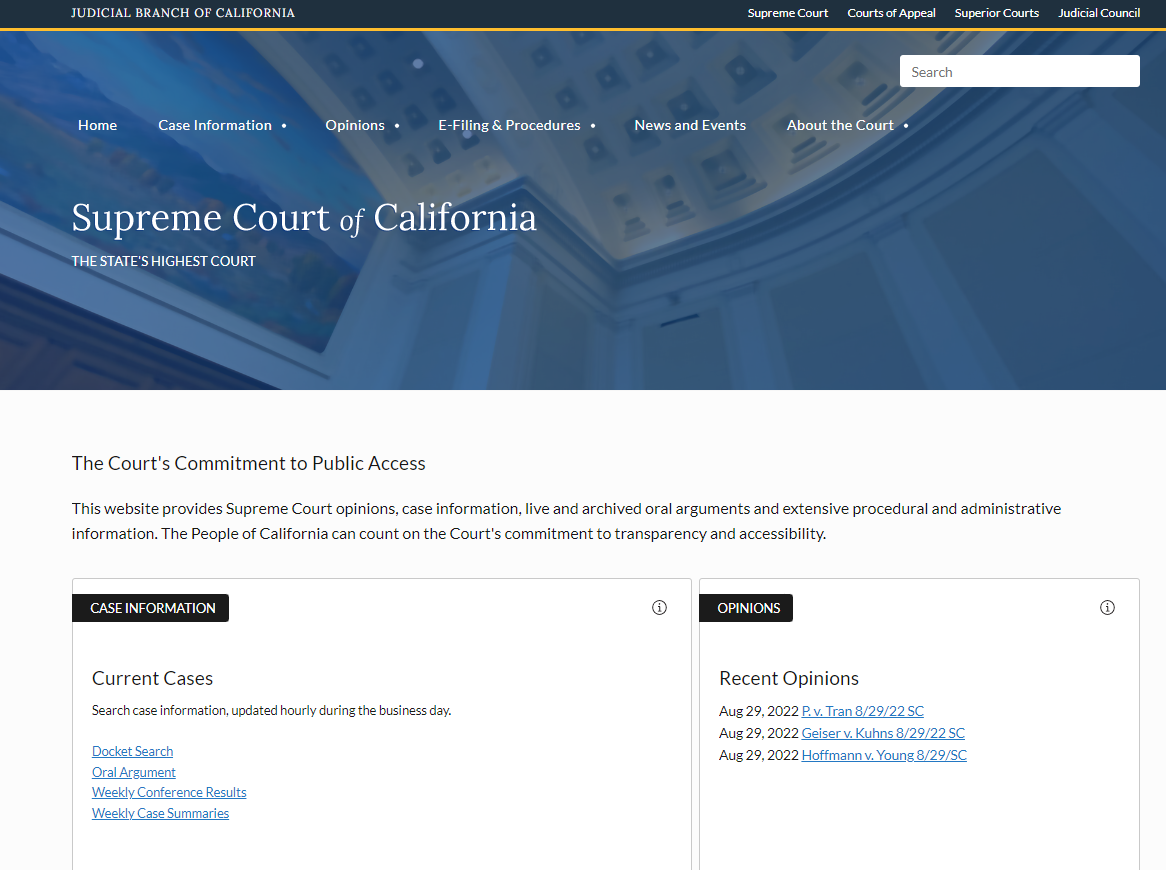 The California Supreme Court issued 49 majority written opinions during the September 2021–August 2022 court year (see chart and "High-Profile Cases" below).
The court received 5,577 filings, including 3,294 petitions for review from California's six appellate court districts, and resolved 5,819 filings, including 3,545 petitions for review.
The court also debuted a new website, developed based on months of user input from attorneys, court staff, the media, and members of the public across the state. It features improved accessibility, including archives of oral argument webcasts and their related opinions organized by year.
---

Remote Oral Arguments Continue

As the COVID-19 pandemic persisted, the court continued to hold oral argument sessions remotely. During this court year, there were 11 remote oral argument sessions with no major logistical issues, according to the court's Clerk/Executive Officer Jorge Navarrete. The court also began preparations for the transition back to hybrid oral arguments, installing technology and infrastructure to allow both remote and in-person appearances.
---



Extension of the Provisional Licensure Program

The court in May extended its Provisional Licensure Program—under which more than 1,100 people have been admitted to the State Bar—through the end of 2022.
The program was adopted in 2020 to allow law school graduates to provisionally practice law after the COVID-19 pandemic forced delay of the Bar Exam. The court then expanded the program to include a pathway to licensure for those with qualifying prior bar exam scores — between 1390 and 1439 on any California Bar Exam administered from July 2015 to February 2020. In July 2020, the court lowered the passing score from 1440 to 1390 for future examinees but did not apply the new passing score retroactively.
---



In Memoriam: Justice John A. Arguelles

Justice John A. Arguelles, the second Latino to serve on the California Supreme Court, died in April at age 94. Arguelles served as an associate justice on the court from 1987 to 1989. He is remembered by contemporaries as a thoughtful and stabilizing influence during his tenure at the court. Earlier in his career as a superior court judge, he led a commission addressing the language needs of non-English speaking people in the California legal system. After his retirement from the high court, Justice Arguelles co-chaired the Advisory Committee on Racial and Ethnic Bias in the Courts.
---

High-Profile Cases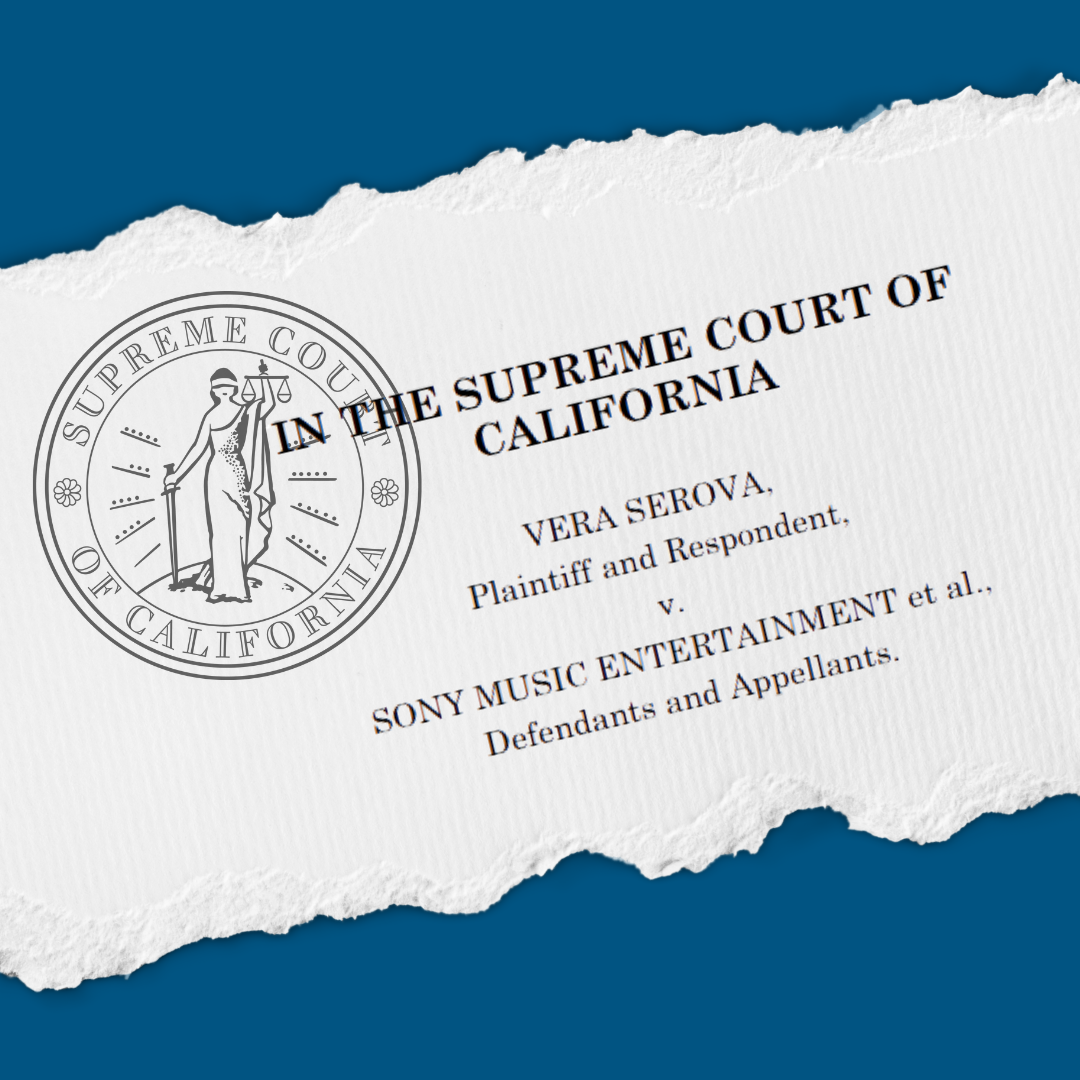 In Vera Serova v. Sony Music Entertainment, the court addressed a consumer lawsuit concerning the 2010 album Michael, a posthumous release attributed to Michael Jackson. The plaintiff alleged that some of the songs included on this album were not performed by Jackson. The court ruled that a promotional video and a statement on the album cover, which asserted Jackson had in fact performed the songs, were commercial speech that could be subject to state consumer protection laws.
In Sheen v. Wells Fargo Bank, the court held that a mortgage lender owes no duty to a borrower to "process, review and respond carefully and completely" to a borrower's loan modification application, and hence is not liable for the borrower's economic losses.
In Guardianship of Saul H., the court addressed procedures applicable to the issuance of Special Immigrant Juvenile findings by California courts, as are required under federal law as a step on the pathway to permanent resident status.
In County of Butte v. Department of Water Resources, the court held that the Federal Power Act does not preclude a court from considering the sufficiency of an environmental impact report under state law to the extent that such a report might inform the state agency's decision concerning matters that are outside the federal government's regulatory jurisdiction. Under the court's decision, the counties can challenge the sufficiency of the agency's environmental impact report regarding the hydroelectric facility at the Oroville Dam but cannot challenge or seek to unwind, under state law, the settlement agreement that is currently pending before Federal Energy Regulatory Commission.
In Lawson v. PPG Architectural Finishes, Inc., employee whistleblowers who allege that they were the victims of workplace retaliation must prove only that their whistleblowing was a "contributing factor" in their firing, demotion, or discipline. In so holding, the court rejected an alternative position that would have required whistleblowers to show any proffered non-retaliatory reason was pretextual.
In People v. Superior Court (Jones), the court held a death row inmate has a right to review a prosecutor's jury selection notes that were relevant to the inmate's postconviction claim that the prosecutor used racially motivated peremptory challenges of potential jurors.
In Conservatorship of Eric B., the court held that people who could be subject to "an unbroken and indefinite period of state-sanctioned confinement" under conservatorships for the gravely disabled may have an equal-protection-based right to not testify at proceedings establishing those conservatorships.
In a series of criminal cases, the court addressed recent legislation and initiative measures that function to reduce criminal sentences. Among these cases, in People v. Renteria, the court held that a gang enhancement or penalty may not be applied to a crime committed by a lone gang member without evidence that the defendant committed the crime on behalf of the gang. In People v. Strong, the court opened the door for more California defendants to seek relief under SB 1437, which amended California's felony murder rule to limit first-degree murder charges to only those accomplices who act with "reckless indifference" to human life, aid in the murder or conspire to commit murder. The court ruled in Strong that some prior findings do not automatically preclude defendants from resentencing relief. In In re Mohammad, the court unanimously ruled that corrections officials need not evaluate individuals for nonviolent offender parole consideration when those individuals are currently serving a sentence for a violent felony.
---
Summary of Key Court Year Statistics


[September 1, 2021 – August 31, 2022] (pdf)
Action/Category

Number

Opinions

49

Civil Cases

23

Criminal Cases

11

Death Penalty Cases

15

Filings

5,577

Petitions for Review

3,294

                                Civil Appeals & Writs

946

                         Criminal Appeals & Writs

2,338

                Death Penalty Appeals & Writs

10

Original Proceedings

2,283

                       Civil Writs & Other Matters

278

                Criminal Writs & Other Matters

1,213

                                Executive Clemency

15

                Death Penalty Appeals & Writs

4

                Death Penalty Habeas Corpus

19

                                     State Bar Matters

754

Dispositions

5,819

Petitions for Review

3,545

                                Civil Appeals & Writs

957

                         Criminal Appeals & Writs

2,579

                Death Penalty Appeals & Writs

9

Original Proceedings

2,274

                       Civil Writs & Other Matters

258

                Criminal Writs & Other Matters

1,219

                                Executive Clemency

23

2

Death Penalty Habeas Corpus [Transferred]

9

                                     State Bar Matters

763

Death Penalty Habeas Corpus
Orders to Show Cause


0

Court of Appeal Opinions
Ordered Published


2

Court of Appeal Opinions
Ordered Depublished


20