What's in the Judicial Branch Budget?
Governor Jerry Brown signed a state budget on Wednesday that will help restore court services slashed during the recession, fund courthouse projects, and improve access to justice for millions of Californians.  
Jun 27, 2018
Governor Jerry Brown signed a state budget on Wednesday that will help restore court services slashed during the recession, fund 10 new courthouse projects, and improve access to justice for millions of Californians.
"The judicial branch budget presented by the Legislature and signed by the Governor represents a tremendous investment in providing equal access to justice for all Californians," Chief Justice Tani G. Cantil-Sakauye said in a statement.
Help for underfunded trial courts

Overall, the judicial branch will get a $284 million boost in new funding to support the Judicial Council's efforts to improve and modernize trial court operations and increase access for court users.
The budget includes nearly $48 million targeted to the most underfunded courts (read about the funding model used to help equalize funding across the state's 58 trial courts). Another $75 million will be allocated to the trial courts by the Judicial Council, including $10 million set aside to fund court reporters in family law cases.
---

Traffic ticket reform, fines and fees


The budget includes $3.4 million to launch eight pilot projects to test ways to take traffic court online.
The initiative was part of a larger series of proposals by the Chief Justice's Commission on the Future of California's Court System to take minor traffic tickets out of criminal court, where there can be oversized consequences for trivial infractions. These cases also stretch court resources—traffic infractions make up about three-quarters of all criminal cases.
The budget also includes $64 million to make up for reduced revenues collected from fines and fees levied on court users, moving the judicial branch toward a more sustainable funding model.
"This is an important move toward a fairer way of funding our courts," said Martin Hoshino, the Judicial Council's administrative director. "This budget acknowledges that court services and infrastructure should be supported by sustainable funding at the state level, rather than through fines and fees paid by Californians who need our courts."

Court construction: long-awaited new courthouses

California's new courthouse projects were a prime target for budget cuts during the economic downturn, leaving many counties with outdated and unsafe courthouses.
After years of funding shortfalls and delays, the budget commits to funding 10 new courthouse construction projects, backed by $1.3 billion in lease revenue bonds.
The 10 projects will be funded in Glenn, Imperial, Riverside (two courthouses, in Indio and Mid-County), Sacramento, Shasta, Siskiyou, Stanislaus, Sonoma, and Tuolumne counties. The budget also provides funding for a data center within Alameda County's courthouse.
Justice Brad Hill, who chairs the council's Court Facilities Advisory Committee, called the infrastructure funding "extraordinarily good news," the result of years of advocacy by the Chief Justice, Judicial Council members and staff, and committee members.
"Now that most of our funding has been returned, the crumbling infrastructure of our judiciary can once again be our focus," Hill said. "Insecure facilities, overcrowding and a lack of accessibility for people with disabilities are some of the many issues that can finally be addressed across our state."
---

Self-help services: $19 million to expand services for those without an attorney
The budget more than doubles the amount earmarked, from $11 million to $30 million, to help Californians going to court to fight evictions, gain custody of their children, or get divorces—without the help of an attorney.
Facing growing numbers of civil and family law litigants representing themselves, courts are expanding services offered through "self-help" centers. Attorneys and other court staff in these centers help litigants stay on track with their cases by helping them fill out forms, hosting in-person workshops, and providing referrals to other services, such as mediation.
More than 4 million self-represented litigants visit state courthouses every year.
---

Language access: interpreters for civil cases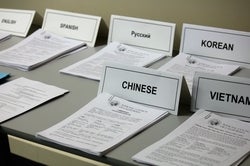 At last count, Californians speak more than 200 languages, with 7 million reporting they don't speak English well.
Defendants are guaranteed an interpreter in criminal proceedings. And now, more than 80% of courts also provide language interpreters in critical civil cases, such as domestic violence or child custody disputes.
Half of the $8 million funding provided in this year's budget will help expand interpreters for civil matters, with the remaining $4 million going toward signs, credential review, training, equipment and staff to implement recommendations outlined in the Strategic Plan for Language Access in the California Courts.