Study: Free legal services help settle high-stakes civil cases
 A pilot program that funds free legal services for low-income Californians facing critical civil cases drastically increased the likelihood of settlement, improved the longevity of court orders, and reduced court costs, a new study shows.
Jul 27, 2017
A pilot program that funds free legal services for low-income Californians facing high-stakes civil cases drastically increased the likelihood of settlement, improved the longevity of court orders, and reduced court costs, a new study shows.
Presented at the Judicial Council's July 27 business meeting, the study is the first to measure the impact of 10 pilot programs chosen by the council to receive funding through the Sargent Shriver Civil Counsel Act.
"I recall when the Sargent Shriver Act passed—it was groundbreaking in the United States and only one other state had considered adopting something like this, and that was New York," said Chief Justice Tani Cantil-Sakauye following Thursday's report to the council. "This is going to be the report I believe that provides the data for greater asks from the Legislature for legal aid."
Over five years, 27,000 Californians received legal help through the program while facing evictions, child custody disputes, or seeking urgent family guardianships or conservatorships.
Among the study's findings for clients who received full representation by an attorney under the Shriver program:
• Eviction cases were far more likely to end in settlement, and the vast majority of negotiated settlements reduced back-owed rent or helped protect tenants' credit by keeping eviction notices off the public record. Among Shriver program clients, 67% of cases settled, as compared to 34% of people who represented themselves. While all Shriver clients received eviction notices, only 6% were ultimately evicted from their homes.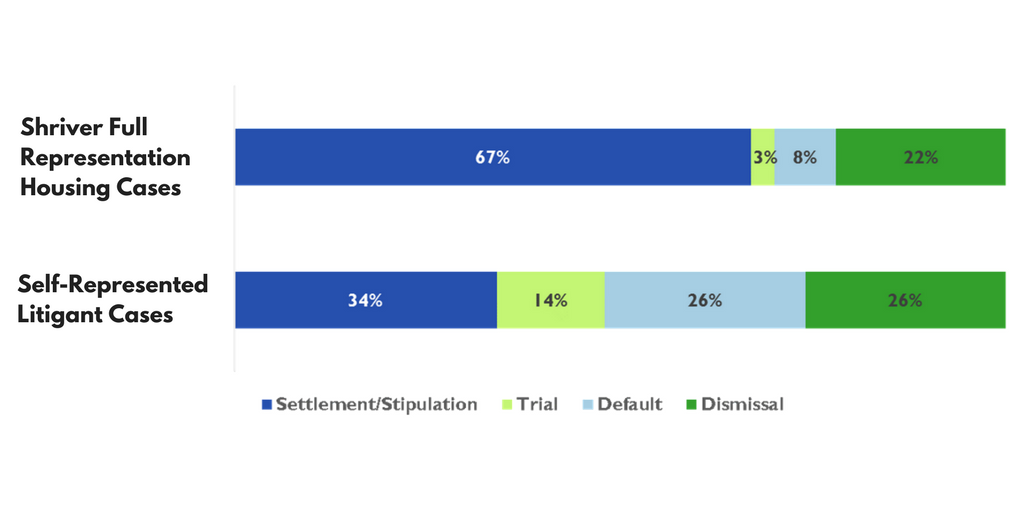 • Having the assistance of a Shriver attorney greatly increased the longevity of court orders in child custody cases, resulting in lower court costs and more family stability. Two years following their child custody cases, only one in 10 clients with Shriver counsel had filed a request to change court orders, as compared to one in three cases where people represented themselves in court.
• Average court costs dropped 30% in guardianship and conservatorship cases where clients received assistance from a Shriver attorney along with support from a probate facilitator, a self-help attorney who works for the court.
Most self-represented in family law, eviction cases
While defendants have the right to an attorney in criminal cases, there is no such protection in civil court.
The Judicial Council estimates that in 75% of family law cases, at least one of the parties does not have an attorney, and 90% of tenants in eviction cases are unrepresented.
To be eligible for the pilot projects, Shriver clients must make no more than 200% of the federal poverty income level. In 2017, that's $48,000 for a family of four.
"The findings show that representation, combined with enhanced services to those who are without representation, enables people to navigate the system more effectively," said Justice Laurie Zelon of the Court of Appeal, Second Appellate District, who serves as vice chair of the council's Sargent Shriver Civil Counsel Act Implementation Committee. "All of this has social benefits that go far beyond the particular individual or family involved."
Yolanda Rodriguez, 57, got help from Santa Barbara County's Shriver program to become legal guardian to her two grandchildren. At the time, Rodriguez was undergoing chemotherapy for colon cancer and could not afford an attorney. Beyond filing the paperwork and appearing in court to help Rodriguez gain custody, Shriver program attorneys helped connect the family to counseling and other services offered through the courts.
"It made a huge difference to have that support because I didn't know where to go, or where to start," Rodriguez said. "The Shriver attorney stepped in to help. And that one step led to a safe environment for the kids, a place where they had family support. I couldn't have done it without them."
A neutral party to settle housing cases
In Yolo County, a Shriver pilot program focused on eviction cases has helped many tenants in disputes with their landlords over housing conditions.
But beyond helping tenants, program advocates said Yolo's project has won the trust of local landlords by hiring a building inspector who serves as a neutral party in the dispute. Seventy-five percent of Yolo County eviction cases with Shriver attorneys are settled, and since the Shriver program began, the number of eviction cases filed countywide dropped nearly 30%.