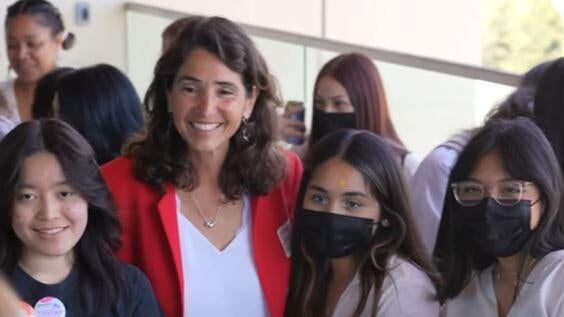 Santa Clara Court Hosts Young Women's Power Lunch
Event connects adult mentors with high school students to discuss challenges they've faced and strategies for overcoming them
May 16, 2022
(The information below is based on a news release from the Santa Clara Superior Court)

The Superior Court of Santa Clara County hosted nearly 80 attendees at its recent Young Women's Power Lunch, an annual event that connects local high school students with adult mentors. The event's supportive environment enabled participants to share the obstacles they have faced because of their gender and discuss ways to stand up for themselves and others like them.
"Upstanders are ordinary people like you and me who speak up even when we are afraid and even when it is far easier to simply remain silent," said Retired Judge LaDoris Cordell, the first African American female judge in Northern California. "What the world needs now, more than ever, are smart, compassionate, female leaders…so I am putting my faith in each one of you young women to be our next leaders."
Watch a video excerpt from the event (2:45min).
In addition to hearing from local female leaders, the young women met in small groups with adult mentors, which included judicial officers, attorneys, and elected officials. The students shared their personal stories and struggles with their mentors, who provided support, insight, and encouragement for moving forward in their journey.
"There was laughter and tears and hugs and connections—the energy was palpable.," added Judge Julia Alloggiamento, chair of the court's Community Outreach Committee. "We hope these young women are inspired to be upstanders and our future leaders, and most importantly, to find support from and give support to other women along their journey." 
The Santa Clara court launched its power lunch events in 2019, with help from the Los Angeles Superior Court, which shared information about its own power lunch program. Any youth or leaders who identify or present as a woman/female are welcome to participate.
This year's power lunch event received support from the California Judges Association (grant funding), the City of San Jose (transportation), and the Office of Women's Policy (lunches).