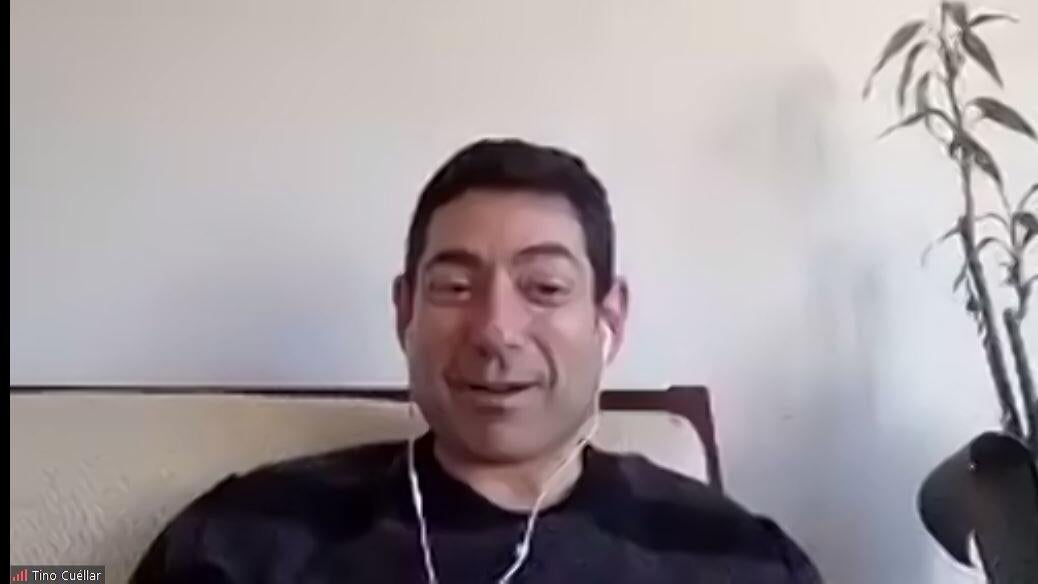 No Classroom? No Problem
State Supreme Court Justice Mariano-Florentino Cuéllar joined Butte County high students on a mock trial presentation and discussion about careers in the law.
Apr 22, 2020
When students in Butte County received news the COVID-19 pandemic was postponing California Supreme Court Justice Mariano-Florentino Cuéllar's visit, they invited him to join their writing club via videoconference instead.
"These students are so dedicated, they've worked all year on a mock trial script for elementary school kids," said Butte County Superior Court Judge Kristen Lucena. "They were pretty excited to share their Star-Trek-themed script with Justice Cuéllar in person."
Judge Lucena is a member of the Chief Justice's Power of Democracy initiative and coordinator of the county-wide Judges in the Classroom pilot. She mentored the students and helped coordinate Justice Cuéllar's visit.
Justice Cuéllar, a well-known Star Trek fan, enthusiastically shared his thoughts on the students' script and on his all-time favorite Star Trek episode, "City on the Edge of Forever" from Season 1.
"It is a classic, amazing episode about someone's decision having unintended consequences, which is a good reminder for anyone working in law," Cuéllar told the students. In addition to his script notes, he also shared with the students his story and pathway to the state's highest court after growing up in a small town on the U.S.-Mexico border.
Before leaving the videoconference, Justice Cuéllar gave the students some encouraging words on their mock trial script and invited them to visit the California Supreme Court's San Francisco courtroom.
"The students from Butte County were enormously impressive," said Cuéllar. "Their civics presentation showcased their deep understanding of the law. I was inspired by their passion to learn about and improve their world."
The final script will be posted with other free resources available to teachers participating in the Judges in the Classroom program which pairs California public school educators with judges who visit and facilitate a court-related lesson for their classrooms.
"The kids will never forget it, added Judge Lucena. "After the meeting, it came out that our local schools would not be resuming in-person classes for the remainder of the year, so Justice Cuéllar's call will be one of those important highlights for their senior year."
Judge Kristen Lucena, pictured upper left corner, is co-chair of the of the Butte County Civic Learning Partnership, a local program supporting the statewide effort to increase access to civic learning for kids in K-12 public schools.