Courts Help Put New Laws into Effect
From erasing old marijuana convictions to helping courts weather natural disasters, track the new laws that will change California courts in 2019.
Dec 18, 2018
On Jan. 1, hundreds of new laws go into effect in California, including many impacting the courts. New laws include post-conviction relief and sentencing, juvenile justice reform and updated emergency measures to help courts weather natural disasters.
Major Criminal Justice Reform
Since recreational marijuana became legal in 2016, more than 6,000 Californians petitioned the courts to have old marijuana convictions cleared or sentences reduced. AB 1793 provides a new process to identify an estimated 220,000 cannabis cases that qualify for dismissal or reduced sentences. If unchallenged by prosecutors, courts will automatically modify the sentences of those affected.
California offers more than 400 specialty courts that treat the underlying causes of crime, and a new law (AB 1810) helps expand such programs for mentally ill defendants. The state will funnel $100 million to county programs that divert some mentally ill defendants from jails into treatment (defendants charged with particularly serious crimes are excluded).
With a growing focus on sentencing reform, AB 2942 provides an avenue for prosecutors to review cases and recommend reduced sentences. But the final decision will stay in the hands of a judge.
Under California's felony murder rule, anyone involved in a serious felony (like the getaway driver in a robbery) could be held responsible if a victim died during a crime—even if the accomplice had no intention of harm or was unaware a murder took place. But with the passage of SB 1437, only accomplices who act with "reckless indifference" to human life, aid in the murder or conspire to commit murder can now be held responsible for first-degree murder. Those currently in prison under such a conviction may be resentenced.
Continued Focus on Juvenile Justice
Adding to a slate of major reforms last year, a new package of laws will further seek to ensure all but the most serious cases are tried in the juvenile justice system. The laws will:
End criminal prosecution of children younger than 12, except for specific violent crimes (SB 439)
Prohibit the prosecution of children under 16 years old as adults (SB 1391)
Ensure consistent procedures for restoring the competency of children declared mentally unfit by a judge (AB 1214)
Helping Courts Weather Natural Disasters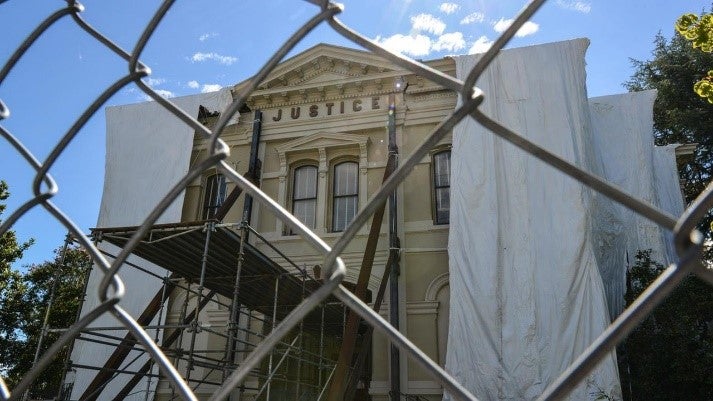 Napa's courthouse was shuttered after the 2014 earthquake.
As wildfires and natural disasters increasingly threaten California cities, SB 1208 improves emergency procedures available to courts in a disaster. It expands on existing law that allows courts to transfer cases to an adjacent county by allowing transfers to courts within 100 miles of the county border.
"During the 2017 wildfires in Sonoma, people were still showing up at the courthouse in need of critical services, like domestic violence restraining orders," said Sonoma County Judge Gary Nadler, a Judicial Council member who worked on the legislation. "This new law will help courts keep services accessible as California is threatened by larger and more frequent natural disasters that cross county lines."
(Read how the Ventura court welcomed their Santa Barbara neighbors after the Thomas Fire).
As is often the case with old state statutes (this one dated back to 1953), the previous language was rife with archaic terms like "insurrection, pestilence, or other public calamity." The new law swaps the dated terms with more typical emergency scenarios of the current day, like wildfires or terrorism.
Promoting Equal Access
Judicial Council of California
The Judicial Council each year sponsors Legislation to further its mission of providing equal access to justice for all Californians. The laws will:
Strengthen procedures for obtaining emergency temporary gun violence restraining orders (AB 2526).
Allow those in financial hardship, instead of paying court fines, to perform community service at a standardized hourly rate of twice the statewide minimum wage, thereby eliminating discrepancies county to county (AB 2532).
Modernize and streamline the warrant process, allowing judges to issue digital warrants without a paper copy and nixing the need for an officer to give an oral oath (AB 2710).
Launch pilot programs at eight courts to take traffic court online, including looking up traffic citations, making ability-to-pay determinations for traffic fines and fees, and resolving cases (SB 847).
Allow specified parties to an appeal regarding child custody to have access to the trial court records (AB 1617).