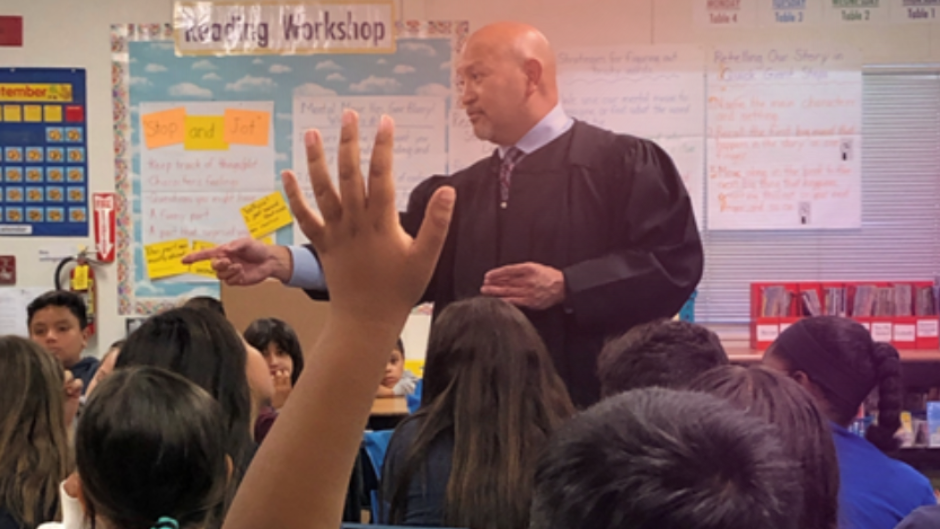 Court Outreach Programs Make a Comeback
After being sidelined by the pandemic, court-supported outreach programs rebound.
Sep 19, 2023
Many judges feel a sense of duty to serve their community. In California, when a judge is sworn in, they are reminded of Standard 10.5 of the Standards of Judicial Administration:
"Judicial participation in community outreach activities should be considered an official judicial function to promote public understanding of and confidence in the administration of justice."
That standard was adopted in 1999. Since then, courts at all levels have developed or expanded educational programs aimed to spark student interest in civic learning, and understanding of government. From mock trials to courthouse tours, these outreach programs not only connect the court with their community, but they also provide support for teachers who are eager to integrate civics lessons into their classrooms.
Organizing the judicial branch around Standard 10.5 came with the launch of the Power of Democracy Civic Learning Initiative (POD), founded in 2013 by Chief Justice Tani G. Cantil-Sakauye. Since then, the judicial branch has evaluated obstacles to accessing civics education, resulting in the evolution and fine-tuning of court-based programs bringing civics to every California K-12 student.
In 2023, the Power of Democracy initiative was adopted by Chief Justice Patricia Guerrero, who was confirmed in January. Since serving as a judge of the San Diego County Superior Court, Chief Justice Guerrero has been a proponent of outreach.
"We must provide young people opportunities to learn about the democratic process, be an active participant in their communities, and share their voices based on their unique experiences," said Chief Justice Patricia Guerrero.
With the launch of Judges in the Classroom program just before the pandemic, judges had access to grab and go lessons in multiple languages. After March 2020, teachers showed up in large numbers looking for support for their remote classrooms, finding ways to bring a judge to their history, social studies, and even their language studies classrooms.
"The pandemic moved the courts online, so our outreach programs followed," said Justice Judith McConnell, chair of the Power of Democracy's advisory body. "Schools pivoted to remote learning, and the number of requests received from teachers was almost overwhelming. But it affirmed that we were on the right path in developing this program." 
For the first two years of the pandemic, judges visited more than 250 to classrooms remotely.
For the 2023-2024 school year, in counties with Community Outreach offices like Santa Clara and San Diego Counties, teachers are lining up for the opportunity to host a judge in their K-12 classrooms. Those counties collectively received more than 140 requests from teachers seeking in-person Judges in the Classroom visits just for September, a month dedicated to celebrating Constitution Month.
In Orange County, students in 12 classrooms scheduled to receive visits from judges during Constitution Month will be learning about the three branches of government for the first time.
Orange County Presiding Judge Maria Hernandez recently formalized the court's commitment to outreach by establishing the Orange County Superior Court's Community Engagement Committee, a body she will lead with Assistant Presiding Judge Cheri Pham.
"As a result of the incredible collaboration and partnership with our legal community, our judges act as leaders in the community and provide invaluable service to the citizens and residents of the county," she wrote in Orange County Lawyer.
In the coming year, partners leading the Power of Democracy initiative will look for ways to connect with hard to reach learners, especially those in ESL classrooms and in remote communities.
---
The Power of Democracy aims to help every court and every school find connections for the youth in their communities. To learn more, visit powerofdemocracy.org