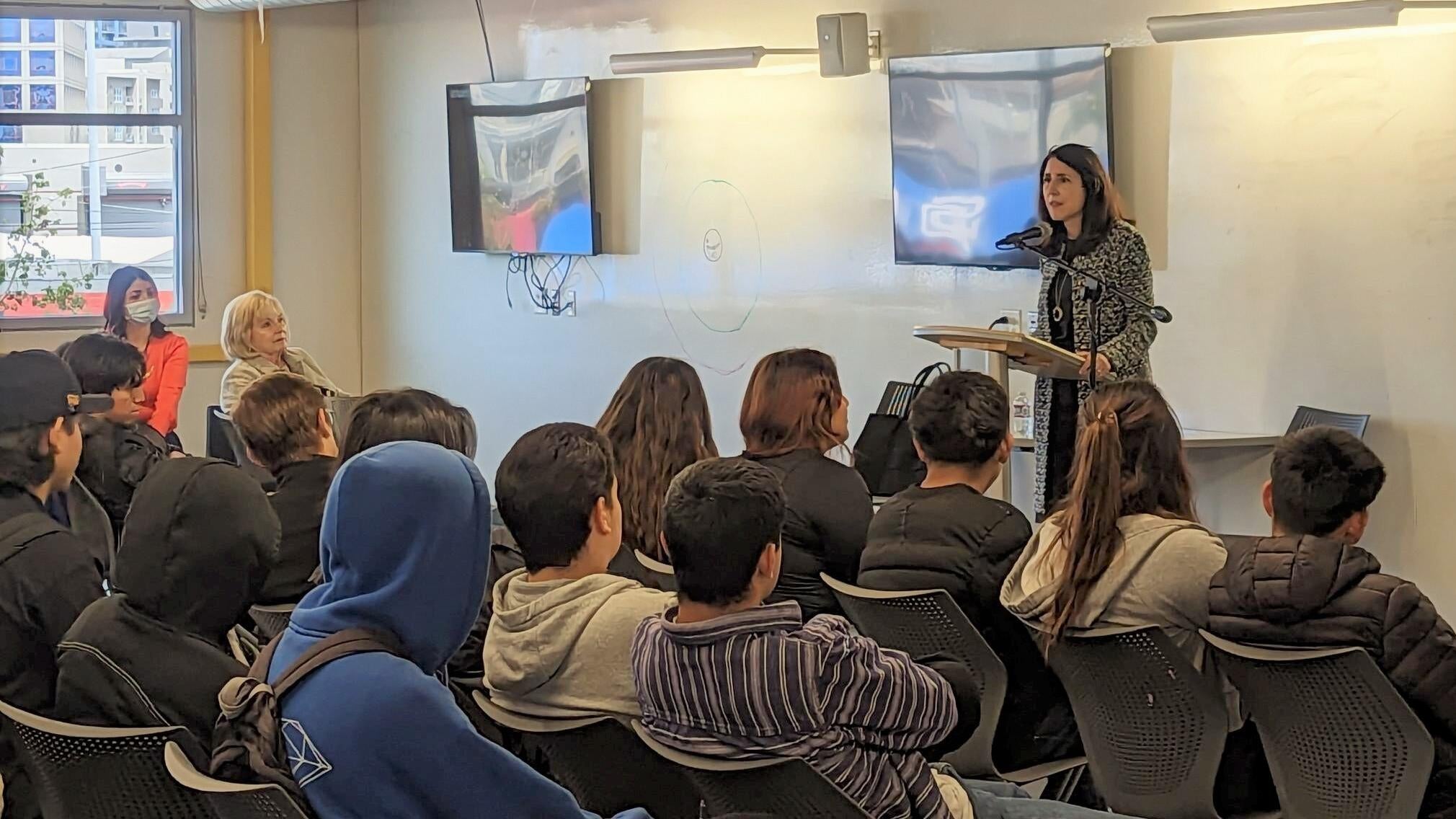 Chief Justice Guerrero Commemorates Law Day with Visit to Monarch School
The Chief Justice answered questions from students at Monarch School, a school which serves unhoused students in San Diego.
May 15, 2023
Chief Justice Patricia Guerrero this month honored "Law Day" with a visit to Monarch School in San Diego. Law Day celebrates the role of law in our country as well as educating students about the legal profession.
In addition to Chief Justice Guerrero, three San Diego appellate justices also made a visit to the school—Presiding Justice Judith McConnell, Justice Martin Buchanan, and Justice Jose Castillo. Monarch is a public school partnership of the San Diego County Office of Education and the non-profit Monarch School Project, which serves unhoused students.
Students asked the Chief Justice numerous questions, including interesting cases she had heard and how she became a judge. The students asked about her work as an assistant U.S. Attorney and how she felt about prosecuting smuggling cases.
Chief Justice Guerrero also spoke about her life growing up in an immigrant family in California's Imperial Valley. She talked about how she worked while attending school, and how she spoke Spanish at home but attended English-only classes at school. She expressed her views on the importance of education, law, and family.
Monarch Principal Dyane Plumly said her students were excited to meet and ask questions of California's first Latina Chief Justice. "Hearing the Chief Justice's story and how she navigated college and her career was inspirational for our students," Plumly said.
Julieta, an 11th grade student, said learning Chief Justice Guerrero was a first-generation college student resonated with her —proof that someone with similar life experiences "can achieve great things."
The Chief Justice's visit to Monarch helped prepare students for their upcoming visit to the California Supreme Court's oral argument on June 6. The court's outreach session will be held at the Third District Court of Appeal in San Diego.