Chief Justice Designates Jim Humes Administrative Presiding Justice of First Appellate District
Justice Jim Humes has been named Administrative Presiding Justice of the First Appellate District in San Francisco.
Jun 19, 2018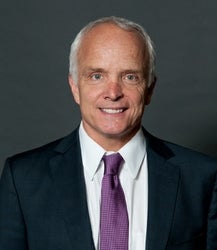 Chief Justice Tani Cantil-Sakauye on Tuesday announced the designation of Justice Jim Humes as Administrative Presiding Justice of the First Appellate District in San Francisco.
Justice Humes made history by becoming the first openly gay justice appointed to serve on the California Court of Appeals.
"Justice Humes has spent more than 30 years of his career in public life, from managing major state agencies to helping provide a vision for the entire judicial branch as a member of the Judicial Council," said Chief Justice Tani Cantil-Sakauye. "His keen intellect and strong leadership make Justice Humes exceptionally qualified to lead the First District forward."
Governor Jerry Brown appointed Justice Humes to the First Appellate District in 2012. He joined the court as an associate justice in Division Four, and in 2014 was elevated to presiding justice of Division One.
In a Court of Appeal with more than one division, the Chief Justice may designate a presiding justice to act as administrative presiding justice under Rule of Court 10.1004. The administrative presiding justice supervises the court's day-to-day operations, overseeing matters that include personnel, budget, and facilities.
Before joining the Court of Appeal, Justice Humes served for two years as Governor Brown's executive secretary for legal affairs, administration, and policy. Before that, Justice Humes served as the chief deputy for then-Attorney General Jerry Brown, where he managed the California Department of Justice—an agency that employed more than 5,000 people, including 1,100 attorneys. Justice Humes previously served as the chief assistant for the civil division and held management and supervisory positions in the health, education & welfare and correctional law sections of the attorney general's office.
Justice Humes began his career in public service in the Colorado Attorney General's Office where he was first appointed to be a deputy in the regulatory law section, and later became a senior assistant attorney general in the tort litigation section. In addition to his public sector work, he also practiced law in private Colorado firms.
Justice Humes holds a law degree from the University of Denver, a master's degree in social science from the University of Colorado, and a bachelor's degree from Illinois State University.