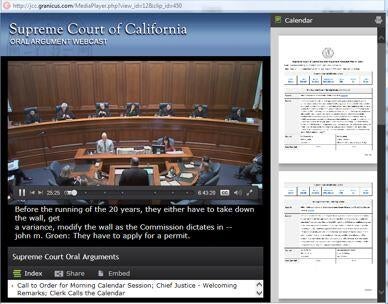 California Supreme Court Helps to Shed Light on Legal System
Webcasts of the court's oral arguments have been accessed more than 44,000 times since it began streaming them last year.
Aug 30, 2017
The California Supreme Court next week will again show the public a crucial step in how it reaches its decisions. That's because the court will live stream its oral argument sessions Sept. 5 and 6 in San Francisco. The court began live streaming last year.
Making the court's oral argument sessions viewable online fulfills a promise made by Chief Justice Tani Cantil-Sakauye during her State of the Judiciary Address in March 2016 to make the court's process more transparent.
"For many years, the court posted its calendar and the case briefs online prior to oral arguments and then posted the opinion within 90 days after that," said Jorge Navarrete, the Clerk of the California Supreme Court. "So, you could see the before and the after, but you couldn't see the live arguments and questioning of the attorneys in the case unless you came to the court in person. We're helping to bridge the gap."
While the webcasts added to the roles and responsibilities of staff, the justices and attorneys in the cases didn't have to adjust much at all.
"Oral arguments proceed pretty much as they had before webcasting," added Navarrete. "And that's part of the point, so the public gets a glimpse into how the process really plays out in the courtroom. The only adjustment I've seen is that the judges and attorneys need to make sure they speak directly into the microphone so the captioner can accurately transcribe what they're saying."
In addition to Supreme Court oral argument sessions, a confirmation hearing of the Commission on Judicial Appointments was streamed for the first time last year, providing a front row seat to the commission's review of the Governor's nominations to the Courts of Appeal.
Next Step: Expansion to the Courts of Appeal
Taking their cue from the state's Supreme Court, the six districts that make up the Court of Appeal in California are considering how best to stream their proceedings as well.
A workgroup made up of representatives from each appellate district is creating webcasting standards to ensure that Californians experience a consistent approach to public webcasting across the state. The standards will guide which court proceedings to broadcast, as well as procedural issues such as captioning and how visitors will access the webcasts on the courts' webpages.
"It seems only natural that the courts of appeal would follow the lead of the California Supreme Court," said Dan Potter, the clerk/administrator for the Court of Appeal, Sixth Appellate District. "Webcasting will not only increase understanding of the court process by allowing the public to view our proceedings, but attorneys interested in the cases will have more insight into what the justices think on a particular legal issue."