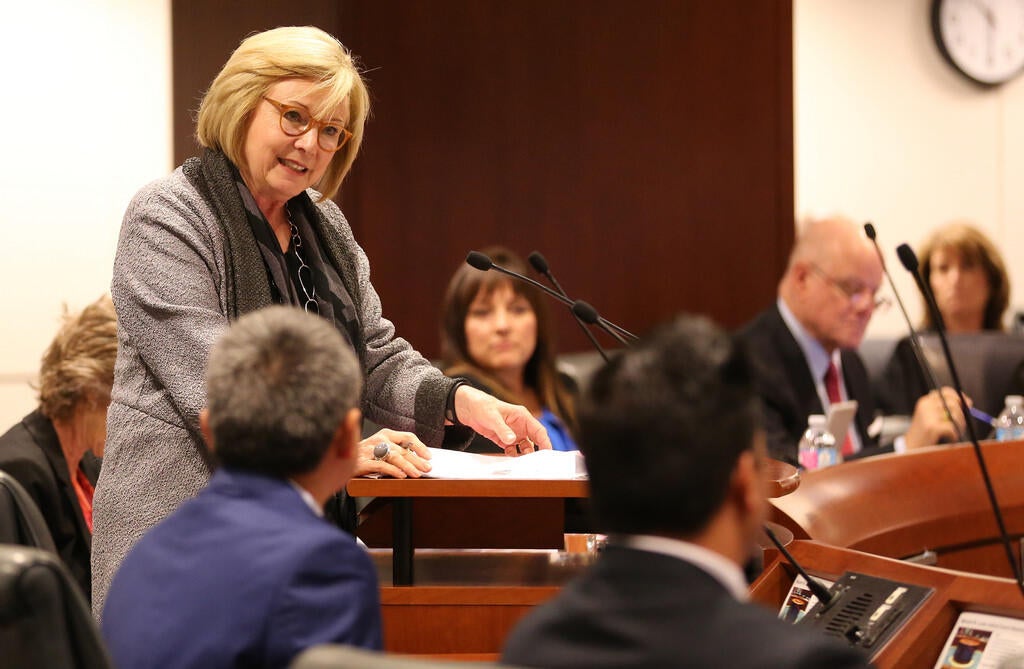 Argued in Brawley
The Fourth District, Division One traveled from its downtown San Diego courtroom to Imperial County so 500 local students could experience their justice system in action.
May 11, 2018
The Court of Appeal Calendar Notice read "Tuesday, May 1, 2018 at 10 a.m. (Imperial County oral argument)", and after the oral argument session the case Dockets read "argued in Brawley."
That's because the Fourth District, Division One traveled from its downtown San Diego courtroom to Imperial County to enable nearly 500 local students to experience their justice system in action, maybe to inspire some of them to become future lawyers, and perhaps even Court of Appeal justices.
The local Imperial County students, and the court, were hosted by Brawley Union High School in Brawley—one of only three schools statewide to achieve an Award of Excellence in the 2014 Civic Learning Awards co-sponsored by Chief Justice Tani G. Cantil-Sakauye and State Superintendent of Public Instruction Tom Torlakson.
Administrative Presiding Justice Judith D. McConnell, herself an award honoree, noted that "Our goal is to educate students about the judicial branch and its role in our democracy and we were aided by judges from the Superior Court of Imperial County who visited many classrooms to explain the cases before the court and the process that brought them to the appellate court—Presiding Judge Diane Altamirano and Brawley teacher Jose Flores were instrumental in organizing this program."
Teacher Jose Flores completes the trio of award honorees. In 2016, he received the Presidential Innovation Award for Environmental Educators that honors outstanding K-12 educators who incorporate innovative environmental lesson plans into their curriculum.
Commenting on the oral argument outreach session Superintendent Simon Canalez said, "The Brawley Union High School District is proud to have partnered with Presiding Justice McConnell and the Fourth District Court of Appeal in hosting appellant court cases for Imperial Valley students in Palmer Auditorium. This event provided our students with a wonderful opportunity to experience the judicial system in a real-world setting. They will be forever grateful for this experience which will in turn spark their civic participation and interest."
During the outreach session students heard oral arguments in three cases: a civil injury case (Diaz v. So. Cal. Edison, D073111), an employment case (Diaz v. S&R Farm Labor Contractor Inc., D073115), and a criminal insurance fraud case (People v. Rios, D072430).
This program is the result of a collaborative effort between the Superior Court in Imperial County; the Court of Appeal, Fourth Appellate District, Division One; and the Imperial County Board of Education.