Search results
California superior courts received more than 200,000 petitions for resentencing or applications for reclassification during the first 13 months after voters approved Proposition 47.
News Release - July 29, 2016
SAN FRANCISCO—At its public meeting on July 29, the Judicial Council approved funding allocations for general court operations and specific costs of the trial courts for fiscal year 2016-17.
News Release - February 16, 2017
More than 50 California public elementary, middle, and high schools are being recognized with this year's Civic Learning Awards.
Video with transcript of the Chief Justice's 2017 State of the Judiciary presented on Mar 27, 2017.
Image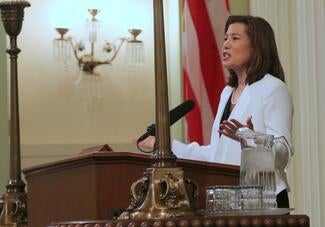 While the model has helped equalize funding gaps across counties, chronic underfunding of the judicial branch has complicated its rollout.
News Release - July 28, 2017
At its July 27-28 business meeting, the Judicial Council approved changes to the way it determines how the state's 58 trial courts are funded.
Image
News Release - September 5, 2017
RIVERSIDE—Presiding Justice Manuel A. Ramirez has announced that the Court of Appeal, Fourth Appellate District, Division Two, will participate in an "Outreach Plus" program at Bishop Union High School in Inyo County on Thursday, September 21, 2017. 
Collaborative justice courts have a dedicated calendar and judge to address specific types of issues California currently has more than 400 collaborative justice courts in all but three small jurisdictions Most drug court caseloads average between 75 and 100 participants while other collaborative courts tend to have smaller caseloads Collaborative justice courts, also called problem-solving courts, promote accountability for youth and adults by combining judicial supervision with services and treatment to help them address the issues that led to t
The table below shows emergency orders that have been signed by the Chief Justice. Additional emergency orders will be added once they become available.
Summary of Cases Accepted and   Related Actions During Week of January 3, 2022 Print PDF The Supreme Court of California has accepted the following cases. The statement of the issue or issues in each case set out below does not necessarily reflect the view of the court, or define the specific issues that will be addressed by the court.