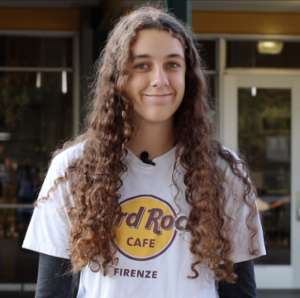 Class of 2019: Speaking Up to Create Change
Recent high school graduate and member of the Chief Justice's Power of Democracy committee shares her experience as a student engaged in advanced civic learning.
Jul 15, 2019
By Marley Fortin, Student-member of the Power of Democracy Steering Committee
As an incoming freshman, I knew that Civitas, the political science academy at my high school, was going to be a rigorous but rewarding program. Though at the time I could barely explain the difference between the House and the Senate, I looked forward to learning deeply about politics, policy, and theory over five semesters of elective classes; I was a little more nervous about meeting the daunting 100-hour community service requirement. In addition to the valuable in-class work I took part in during my high school years, it was the lessons I learned outside the classroom that I will carry with me throughout my adult life.
Civitas as a program is deeply committed to tying curriculum to real-world experience.
As a freshman in the State & Local Government elective course and the daughter of two teachers, I decided to focus my culminating project on education funding in California, from the passage of Prop 13 in 1978 to California's 2014 creation of the Local Control Funding Formula. My teachers quickly referred me to my school district's Local Control & Accountability Plan Parent Advisory Committee (LCAP PAC), which writes equitable funding recommendations for my school district's Board of Education. (Trust me, it's much more fun than the name might indicate.) Over the past two years, I've debated on issues as varied as mitigating 9th-grade math failure rates to providing English learners with support systems to improving counselor availability.
Memorizing all those acronyms, funding streams, and community partners was a challenge, but in the end, it was worth it to be able to discuss and suggest concrete benefits for San Juan students.
My involvement on the LCAP PAC has taught me how to effect change. I won't lie– being a member of the committee was initially really intimidating. I was part of a very small student minority in a room full of adults. Because of my age and my inexperience with education funding, I felt hesitant to add my voice to the conversation at our monthly meetings. With the help of mentors on the committee, I realized I had something important to contribute– first-hand insights into the daily life of students. I saw the effects of the district's funding allocations every day in the classroom. This allowed me to guide the conversation towards the areas where I knew students needed the most help.
I'm so grateful that Civitas and the LCAP PAC taught me that I should never stay quiet when I have the capacity to create positive change. Without the support of my Civitas teachers and my adult peers on the LCAP PAC, I never would have become the advocate that I am today. As schools work to increase civic engagement opportunities, I hope that same kind of support is extended to students around California. Civic engagement, by its definition, is not a packaged lecture, or a silent student watching a room of adults deliberate. It should be a path that leads students beyond the walls of the classroom and into meaningful collaborative roles with adults. I was lucky to take that path, and I can't wait to see more students embark on it too.