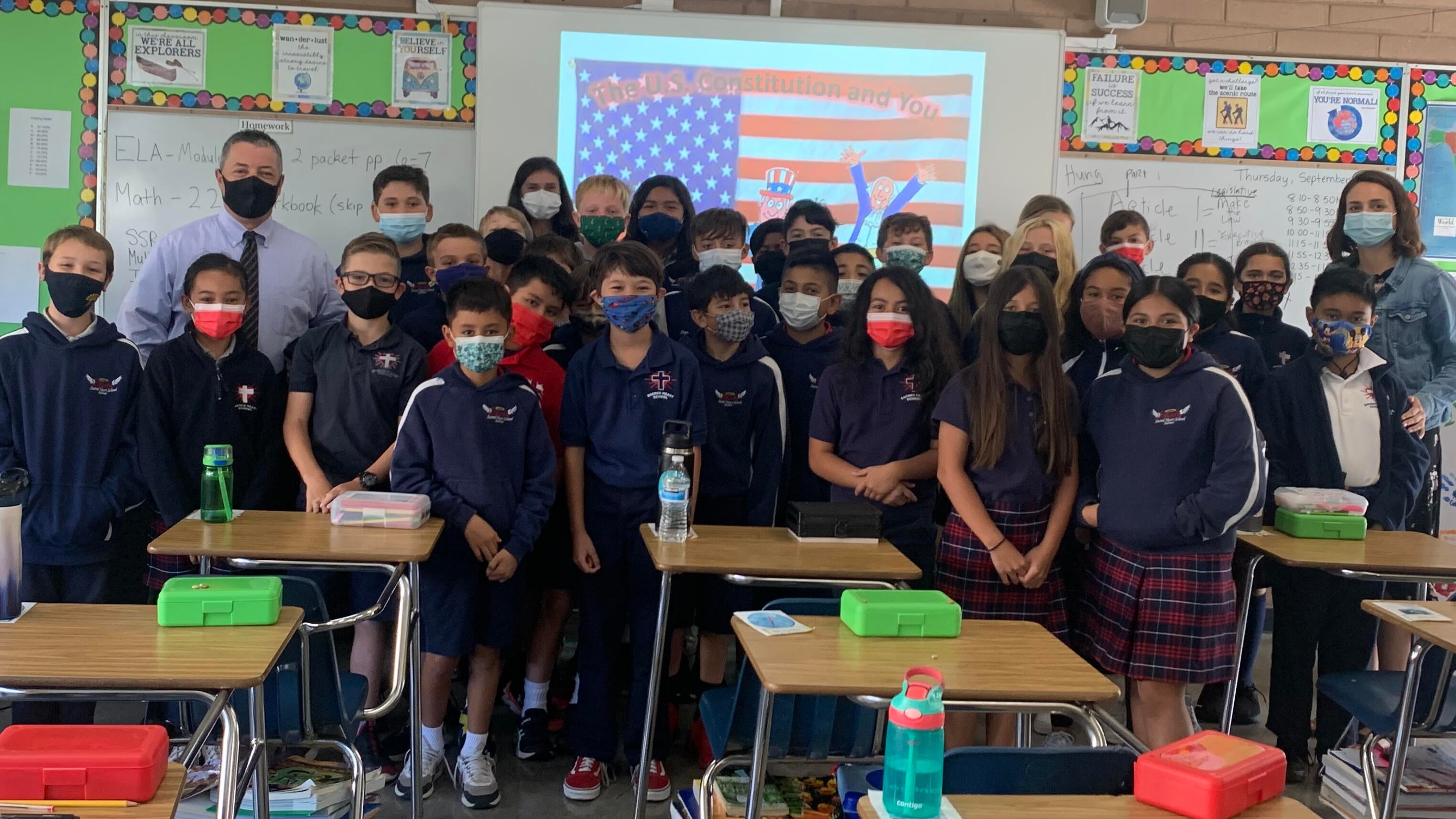 Civics Movement Gains Ground
Inspired by the Chief Justice, 13 California counties launch efforts to boost civic education.
Aug 10, 2017
Americans know surprisingly little about their own government. Most can't name its three branches, and few can name a single U.S. Supreme Court justice.
Not so for a group of Butte County fifth graders.
These civic-minded students began their school day with a rundown of current news. They answered trivia about U.S. Supreme Court justices. And they capped off their year by staging a mock trial at the Chico courthouse alongside a local judge, prosecutor, defense attorney and bailiff.
"It's different when students get involved—it's not just out of a textbook," said teacher Deidra Cross. "They know what goes on in a courtroom, they understand the roles of government, and they can see how to get involved. It's hard to understand or be interested in what's going on in the world if you don't have the background on how our system works."
Chief Justice's initiative inspires county efforts
Butte is one of 13 counties that have created partnerships to expand the focus on civics in California classrooms. Santa Clara is the latest county to join the effort, launching its partnership August 9 with a coalition of leaders hailing from the education, technology and non-profit worlds.
No state plan to boost civic learning existed until 2013, when California Chief Justice Tani G. Cantil-Sakauye launched the Power of Democracy initiative and spearheaded a committee with state Superintendent of Education Tom Torlakson. Its aim goes beyond closing the knowledge gap, giving students the skills and motivation to take part in civic life, from showing up to jury duty to understanding propositions on the ballot.
Inspired by this initiative, county partnerships sprung up—more than doubling in number since 2015—to help educate students about the judicial branch and the work of the state's courts.
"When I first became a judge, it surprised me how often I needed to explain the role of the courts. So as Chief Justice, I decided to make civic engagement a priority," Cantil-Sakauye said. "It's clear we need to do better for the next generation, and these county partnerships have helped grow our work into a truly statewide movement."
The 13 county partnerships reach more than half a million students, and each has its own strategy to bring civics lessons into the classroom.
In Fresno County, local attorneys team up with students to explore community problems and lead service projects. Students there pitched a mobile app that would support former offenders after being released from juvenile hall.
Sacramento schools get visits from the Third District Court of Appeal, which conducts some of its oral arguments on local campuses, allowing students to interact with its justices.
And Humboldt County launched its partnership this year that includes study of tribal courts, such as the Yurok Tribal Court. That court settles cases under the Yurok Tribe's constitution for its 6,000 members.
"This grassroots effort will be essential to growing the next generation of engaged and informed citizens," said Justice Judith McConnell, who chairs the Power of Democracy Steering Committee. "The fact we're talking about civic education—and that we have leaders both inside and outside education who care about it—gives me hope."